Nikki's Top Tips On How To Survive Your Company Christmas Party
Posted by Nikki Davis on Saturday, December 10, 2022 at 11:47:57 AM
By Nikki Davis / December 10, 2022
Comment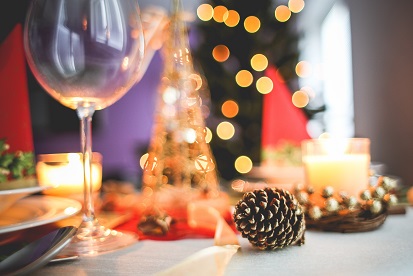 Anyone like me who was dreading their company Christmas party? I have to admit that I ran hot and cold with mixed emotions leading up to the event. If you haven't already listened to my podcast on social anxiety, it is a must listen to get you up to speed on where I fall on opinions of public appearances like this! But I digress, and I present you a comprehensive list on how YOU can survive YOUR company Christmas party... because if I can do it, YOU can, too!!!
1. The number 1 rule is Don't Drink Too Much! No good things come from the consumption of too much alcohol, and no one enjoys a hangover the next day. So pace yourself. Have plenty of food on your stomach, and ALWAYS act respectful and with some level of proper etiquette/decorum!
2. Mingle. This may not be my favorite part of the night, but it's important to put yourself out there. I'm proud of you for even showing up, but let's set a goal of meeting at least two unfamiliar people and talking to three people that you know well! Chances are that by talking to that many people, you might actually have fun!
3. Dress appropriately. Did I end up with three outfit choices? Yes. Did I go with the bolder choice but also packed the second option in the car just in case.... You betcha! This all came from doing my homework what other people were wearing. In fact I started a small girls' Facebook string as such so that we could drop attire notes, pics, and comments as we were shopping. The string included a handful of people who had never been to the event as this was our first post-COVID Christmas party, so there were definitely questions, advice, and girlpower talks on choices in the string! Still in doubt, though? Consider wearing what you would normally wear to work, but dress it up a bit. Think about maybe adding a holiday touch. For me, that bold choice involved a lot more taping than I would normally do EVER!!! But I was super happy with the final results. My $14 consignment store find was not only cute, but EXTRA COMFORTABLE, and since it was a romper, the shorts made me feel a lot more confident/comfortable than an actual dress!
4. Skip the work talk. You can go back to reality on Monday. Relax and have a good time! Tell the funny stories. Get to know your co-workers on a human/personal level!
5. Make sure to thank the host or hostess. I got around to the majority of management last night, so I'll check this off my list. They put on a beautiful event for us that showed that they value us and care for us. Every little detail was perfect. So as a guest, be sure and include those thank yous as part of your rounds.
6. Feeling overwhelmed? You aren't alone. I was 100% overstimulated last night. Mostly sounds and smells (and I normally can't smell much in general), but it was like my brain was on overdrive. I could hear 10 conversations around me at one time. After dinner, the lingering smell of the food was heavy. All of that compounded into what normally drives me into my shell and/or is my cue to exit. However, my best trick in those situations is to Take A Timeout. Make a bathroom run. Hide in stall. Check your phone. You know what that does? It slows your breathing. It slows your heart rate. It allows you to compose yourself to go back out for round 2, round 3 or however many times you want to tackle that party!
7. Have fun. I have some friends who dance really well, and once the music actually got to 90s/2000s jams, I actually got on the dance floor with them. Shocker, I know!!! My work bestie even texted me this a.m. that she was proud of me for staying AND DANCING. But as long as you surround yourself with your besties, your crew, your posse, your people, I promise that going to a company Christmas party won't kill you, and you might actually enjoy yourself!
8. Lastly, Don't Skip It. I know it's easy to make excuses. Believe me that I had a million to not go, but you will thank yourself later for putting yourself out there and maybe actually having a good (if not GREAT) time.
With special thanks to our F.C. Tucker Emge and F.C. Tucker Collier management and staff for putting on such a beautiful and wonderful event for us last night! Friedman Park was a fabulous location choice, and the food by Doros Hadjisavva from Acropolis/Riverwalk was amazing! A million thanks to the best company in town to work for!